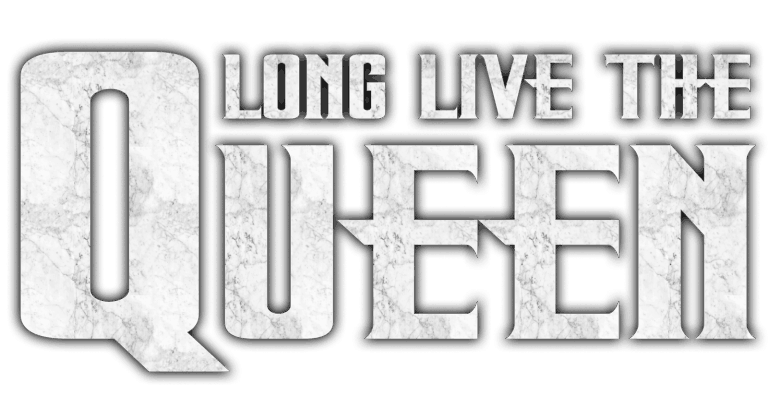 QUEEN'S ROCK MEETS THE BEAUTIFUL SOUNDS OF THE STRING QUARTET, SPECIAL GUESTS, A SPECTACULAR LIGHT SHOW AND MANY OTHER EXCITING SURPRISES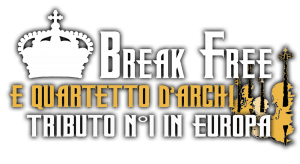 Saturday, 20 January 2018

SOLD OUT - Long Live the Queen - Spettacolo con Quartetto d'Archi e Special Guest - Teatro Sociale Busto Arsizio (VA)

Teatro Sociale, Via Dante Alighieri, 20, 21052 Busto Arsizio VA, Italia

BIGLIETTI DISPONIBILI ONLINE QUI OPPURE AL TEATRO SOCIALE "DELIA CAJELLI" DA LUN A VEN E NEL GIORNO DELLO SPETTACOLO ALLE ORE 16.00-18.00 E NEI PUNTI VENDITA TICKETONE

Saturday, 03 February 2018

SOLD OUT - Long Live the Queen - Spettacolo con Quartetto d'Archi e Special Guest - Teatro Ferrari DI Camposampiero (PD)

Teatro Ferrari, Via Andrea Palladio, 1, 35012 Camposampiero PD, Italia

Saturday, 17 February 2018

SOLD OUT - ES Long Live the Queen - Show Must Go On Tour - Queen Tribute Show - teatro Lopez de Ayala, Baldajoz, Spain

Thursday, 22 February 2018

SOLD OUT - Long Live the Queen - Spettacolo con Quartetto d'Archi e Special Guest - Teatro Alessandrino - Alessandria (AL)

Cinema Teatro Alessandrino, Via Giuseppe Verdi, 12, 15121 Alessandria AL, Italia

Saturday, 24 February 2018

SOLD OUT - ES Long Live the Queen - Show Must Go On Tour - Queen Tribute Show - teatro Carrion, Valladolid, Spain

Sunday, 25 February 2018

SOLD OUT - ES Long Live the Queen - Show Must Go On Tour - Queen Tribute Show - Palacio Euskalduna, Bilbao, Spain

Monday, 26 February 2018

SOLD OUT - ES Long Live the Queen - Show Must Go On Tour - Queen Tribute Show - teatro Lope de Vega, Madrid, Spain

Thursday, 15 March 2018

ES Long Live the Queen - Show Must Go On Tour - Queen Tribute Show - teatro Cervantes, Almeria, Spain

Friday, 16 March 2018

ES Long Live the Queen - Show Must Go On Tour - Queen Tribute Show - teatro de Triana, Sevilla, Spain

Sunday, 18 March 2018

ES Long Live the Queen - Show Must Go On Tour - Queen Tribute Show - teatro, Spain

Saturday, 07 April 2018

Long Live the Queen - Spettacolo con Quartetto d'Archi e Special Guest - Teatro Comunale Limbiate (MB)

Teatro Comunale di Limbiate, Via Valsugana, 1, 20812 Limbiate MB, Italia

Friday, 20 April 2018

Long Live the Queen - With String Quartet & Special Guest - Remchingen (DE)

Remchingen, Enzkreis, Deutschland

TICKETS NOT YET AVAILABLE

Saturday, 28 April 2018

Long Live the Queen - Spettacolo con Quartetto d'Archi e Special Guest - Teatro Astra (VI)

Teatro Astra, Contrà Barche, 55, 36100 Vicenza VI, Italia

Saturday, 16 June 2018

Long Live the Queen - Show with String Quartet & Special Guest - Goirle (NL)

Friday, 29 June 2018

B - Long Live the Queen - With Cello & Special Guest - Spa Tribute Fest (Spa, Belgium)
Long live the Queen, lo spettacolo in cui il rock dei Queen incontra la musica classica…
e raggiunge il sold out in tempi record!
Long Live the Queen, the show where Queen's Rock meets classical music! Described as many as the best tribute in Europe, the most similar to the original, the Break Free – Queen Tribute Show is the international tribute to the Queen who has been enthusiastically welcomed in Italy and across Europe. In this show for the first time in Europe, the rock formation of the Queen is combined with the sound of classical training. The arrangements are written by musicians graduated from the Vicenza Conservatory, giving birth to a perfect marriage that, enriched by spectacular lights and special effects shows, amazes the audience. In this show are featured all the great hits of the Queen as "Bohemian Rhapsody", "We Are the Champions" and "Show Must Go On" played by a training of 10 musicians and special guests. The string quartet, accompanies rock formation and features solo songs inspired by the music and the Queen's story. This show has sold out in a week in both Italy and Germany and offers an unforgettable experience … We Will Rock You!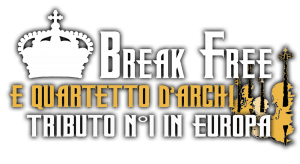 Saturday, 20 January 2018

SOLD OUT - Long Live the Queen - Spettacolo con Quartetto d'Archi e Special Guest - Teatro Sociale Busto Arsizio (VA)

Teatro Sociale, Via Dante Alighieri, 20, 21052 Busto Arsizio VA, Italia

BIGLIETTI DISPONIBILI ONLINE QUI OPPURE AL TEATRO SOCIALE "DELIA CAJELLI" DA LUN A VEN E NEL GIORNO DELLO SPETTACOLO ALLE ORE 16.00-18.00 E NEI PUNTI VENDITA TICKETONE

Saturday, 03 February 2018

SOLD OUT - Long Live the Queen - Spettacolo con Quartetto d'Archi e Special Guest - Teatro Ferrari DI Camposampiero (PD)

Teatro Ferrari, Via Andrea Palladio, 1, 35012 Camposampiero PD, Italia

Saturday, 17 February 2018

SOLD OUT - ES Long Live the Queen - Show Must Go On Tour - Queen Tribute Show - teatro Lopez de Ayala, Baldajoz, Spain

Thursday, 22 February 2018

SOLD OUT - Long Live the Queen - Spettacolo con Quartetto d'Archi e Special Guest - Teatro Alessandrino - Alessandria (AL)

Cinema Teatro Alessandrino, Via Giuseppe Verdi, 12, 15121 Alessandria AL, Italia

Saturday, 24 February 2018

SOLD OUT - ES Long Live the Queen - Show Must Go On Tour - Queen Tribute Show - teatro Carrion, Valladolid, Spain

Sunday, 25 February 2018

SOLD OUT - ES Long Live the Queen - Show Must Go On Tour - Queen Tribute Show - Palacio Euskalduna, Bilbao, Spain

Monday, 26 February 2018

SOLD OUT - ES Long Live the Queen - Show Must Go On Tour - Queen Tribute Show - teatro Lope de Vega, Madrid, Spain

Thursday, 15 March 2018

ES Long Live the Queen - Show Must Go On Tour - Queen Tribute Show - teatro Cervantes, Almeria, Spain

Friday, 16 March 2018

ES Long Live the Queen - Show Must Go On Tour - Queen Tribute Show - teatro de Triana, Sevilla, Spain

Sunday, 18 March 2018

ES Long Live the Queen - Show Must Go On Tour - Queen Tribute Show - teatro, Spain

Saturday, 07 April 2018

Long Live the Queen - Spettacolo con Quartetto d'Archi e Special Guest - Teatro Comunale Limbiate (MB)

Teatro Comunale di Limbiate, Via Valsugana, 1, 20812 Limbiate MB, Italia

Friday, 20 April 2018

Long Live the Queen - With String Quartet & Special Guest - Remchingen (DE)

Remchingen, Enzkreis, Deutschland

TICKETS NOT YET AVAILABLE

Saturday, 28 April 2018

Long Live the Queen - Spettacolo con Quartetto d'Archi e Special Guest - Teatro Astra (VI)

Teatro Astra, Contrà Barche, 55, 36100 Vicenza VI, Italia

Saturday, 16 June 2018

Long Live the Queen - Show with String Quartet & Special Guest - Goirle (NL)

Friday, 29 June 2018

B - Long Live the Queen - With Cello & Special Guest - Spa Tribute Fest (Spa, Belgium)