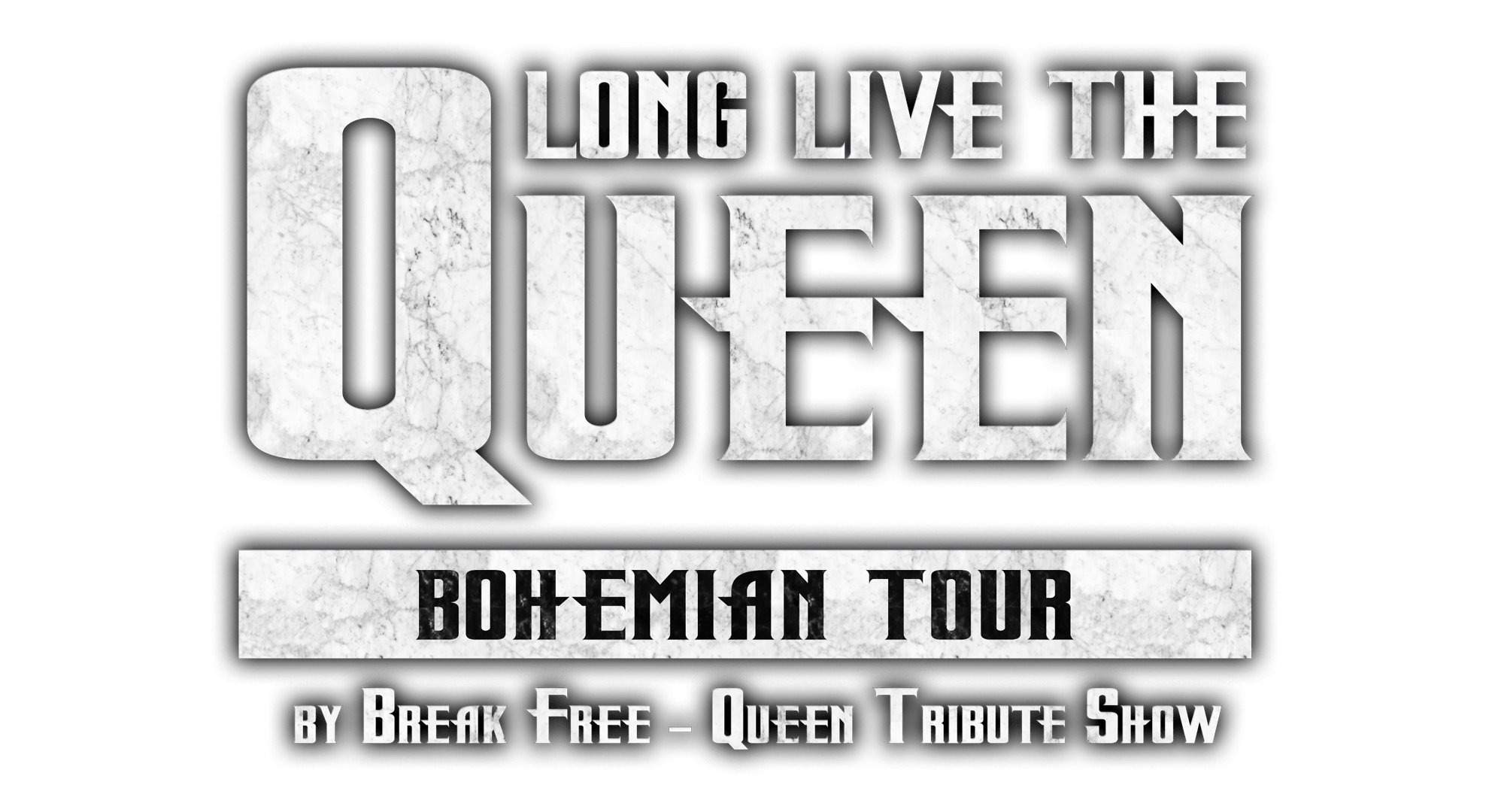 THE ULTIMATE QUEEN TRIBUTE SHOW
Long live the Queen, where the No.1 Queen tribute in Europe meets special guests, the beautiful sound of classical instruments, a spectacular light show and many other exciting surprises. Relive the thrills of a legendary Queen concert in this great tribute show, Relive the Legend!
Described by many as the best tribute in Europe, the most similar to the original, Break Free – Queen Tribute Show is the international tribute to Queen welcomed with enthusiasm in all of Europe. In this show for the first time in Europe, Queen's rock line-up is combined with the sounds of a classical line-up and extraordinary musicians who play the roles of Queen's greatest collaborations. A perfect combination that, enriched by a spectacular light show and special effects, amazes the audience. This show is home to all of Queen's greatest hits such as "Bohemian Rhapsody", "We Are the Champions" and "Show Must Go On". This show has sold out in record time all over Europe and offers an unforgettable experience… We Will Rock You!
Thursday, 01 February 2024

IT - Long Live The Queen - CineTeatro Gavazzeni, Seriate

Via Carlo Cattaneo, 1, 24068 Seriate BG

Friday, 02 February 2024

IT - Long Live The Queen - Teatro S. Giulia, Brescia (BS)

Teatro S. Giulia, Villaggio Prealpino Via Quinta, 4, 25136 Brescia BS, Italia

Biglietti a 35€ + pv, CLICCA QUI PER ACQUISTARE I BIGLIETTI ONLINE, oppure recati presso la biglietteria del Teatro:

Indirizzo: Villaggio Prealpino Via Quinta, 4 - 25136 Brescia BS

Telefono: 3665339249

Email: info.teatrosantagiulia@gmail.com

Apertura: ogni martedì (festivi esclusi) dalle 17.30 alle 18.30 e nelle giornate di programmazione cinematografica, domenica e martedì, dalle ore 20 alle ore 20.30. La biglietteria apre 1 ora prima dell'inizio dello spettacolo.

Saturday, 03 February 2024

IT - Long Live The Queen - Teatro S. Giulia, Brescia (BS)

Teatro S. Giulia, Villaggio Prealpino Via Quinta, 4, 25136 Brescia BS, Italia

Biglietti a 35€ + pv, CLICCA QUI PER ACQUISTARE I BIGLIETTI ONLINE, oppure recati presso la biglietteria del Teatro:

Indirizzo: Villaggio Prealpino Via Quinta, 4 - 25136 Brescia BS

Telefono: 3665339249

Email: info.teatrosantagiulia@gmail.com

Apertura: ogni martedì (festivi esclusi) dalle 17.30 alle 18.30 e nelle giornate di programmazione cinematografica, domenica e martedì, dalle ore 20 alle ore 20.30. La biglietteria apre 1 ora prima dell'inizio dello spettacolo.

Friday, 09 February 2024

IT - Long Live the Queen - Sala Argentia, Gorgonzola (MI)

Sala Argentia Cinema Teatro, Via Giacomo Matteotti, 30, 20064 Gorgonzola MI, Italia

Biglietti a partire da 27,00€+pv, CLICCA QUI PER ACQUISTARE I BIGLIETTI ONLINE o recati presso la biglietteria del Teatro:

Apertura: giovedì e domenica (festivi esclusi) dalle 15.30 alle 17.30 e giovedì sabato e lunedì, dalle ore 21:00 alle ore 22:00.

Indirizzo: Via Giacomo Matteotti, 30, 20064 Gorgonzola MI

Telefono: 02 9530 0616

Email: cinema.teatro@argentia.it

Sunday, 11 February 2024

IT - Long Live the Queen - Teatro Palamostre, Udine (UD)

Piazza Paolo Diacono, 21, 33100 Udine UD, Italia

Friday, 16 February 2024

IT - Long Live the Queen - Teatro Corso, Mestre (VE)

Teatro Corso, Corso del Popolo, 30, 30172 Venezia VE, Italia

Sunday, 18 February 2024

IT - Long Live The Queen - Teatro Politeama Pratese, Prato (PO)

Politeama Pratese Spa, Via Giuseppe Garibaldi, 33/35, 59100 Prato PO, Italia

Friday, 05 April 2024

IT - Long Live the Queen - Teatro Cristallo, Bolzano (BZ)

Teatro Cristallo Associazione, Via Dalmazia, 30, 39100 Bolzano BZ, Italia

Inizio show ore 20.30
Biglietti a €36 + pv (intero), CLICCA QUI PER ACQUISTARE I BIGLIETTI ONLINE, oppure recati presso la biglietteria del Teatro:

Indirizzo: Via Dalmazia, 30, 39100 Bolzano

Telefono: 0471067822 (chiamare durante gli orari di apertura del botteghino)
Email: prenotazioni@teatrocristallo.it
Biglietteria: 
Da lunedì a venerdì dalle ore 16.30 alle 18.30 
Il giovedì e il sabato anche dalle 10.00 alle 12.00 e un'ora prima dello spettacolo.

Saturday, 06 April 2024

IT - Long Live the Queen - Teatro Cristallo, Bolzano (BZ)

Teatro Cristallo Associazione, Via Dalmazia, 30, 39100 Bolzano BZ, Italia

Inizio show ore 20.30
Biglietti a €36 + pv (intero), CLICCA QUI PER ACQUISTARE I BIGLIETTI ONLINE, oppure recati presso la biglietteria del Teatro:

Indirizzo: Via Dalmazia, 30, 39100 Bolzano

Telefono: 0471067822 (chiamare durante gli orari di apertura del botteghino)
Email: prenotazioni@teatrocristallo.it
Biglietteria: 
Da lunedì a venerdì dalle ore 16.30 alle 18.30 
Il giovedì e il sabato anche dalle 10.00 alle 12.00 e un'ora prima dello spettacolo.

Sunday, 07 April 2024

IT - Long Live the Queen - Teatro Auditorium S. Chiara, Trento (TN)

Teatro Auditorium, Via Santa Croce, 67, 38122 Trento TN, Italia

Thursday, 11 April 2024

IT - Long Live The Queen - Teatro Colosseo, Torino

Teatro Colosseo, Via Madama Cristina, 71, 10126 Torino TO, Italia

Friday, 12 April 2024

IT - Long Live the Queen - Teatro Alessandrino, Alessandria

Teatro Alessandrino, Via Giuseppe Verdi, 12, 15121 Alessandria AL, Italia

Biglietti a partire da 28,00€+pv, CLICCA QUI PER ACQUISTARE I BIGLIETTI ONLINE oppure recati presso la biglietteria del teatro:

Orari di apertura: dal lunedì al sabato dalle 17.00 alle 19.00
Indirizzo: Via Giuseppe Verdi, 12, 15121 Alessandria
Telefono: 0131 25 26 44

Saturday, 13 April 2024

IT - Long Live The Queen - Cinema Alcione, Verona

Cinema Teatro Alcione, Via Giuseppe Verdi, Borgo Venezia, 20, 37131 Verona VR, Italia

Thursday, 18 April 2024

IT - Long Live the Queen - Teatro Celebrazioni, Bologna (BO)

Teatro Celebrazioni, Via Saragozza, 234, 40135 Bologna BO, Italia

Biglietti a partire da 28,50€ + pv (intero).
CLICCA QUI per acquistare i biglietti online tramite Ticketone, oppure CLICCA QUI per acquistarli tramite Vivaticket, o recati presso uno dei punti vendita Ticketone o Vivaticket.

Puoi acquistare i biglietti anche presso la biglietteria del teatro:
Indirizzo: Via Saragozza, 234, 40135 Bologna BO
Telefono: 051 439 9123
Email: info@teatrocelebrazioni.it
Orari di apertura: dal martedì al sabato dalle ore 15 alle 19 e da un'ora prima dell'inizio degli spettacoli.

Friday, 19 April 2024

IT - Long Live the Queen - Teatro Manzoni, Busto Arsizio (VA)

Cinema Teatro Manzoni, Via Calatafimi, 5, 21052 Busto Arsizio VA, Italia

Biglietti disponibili a breve.

Sunday, 21 April 2024

IT - Long Live The Queen - Superstars - Hall, Padova

Via Nona Strada, 11b, 35129 Padova PD, Italia